Skoda Connect

ŠKODA Connect online services to live every day to the full
Are you the owner of ŠKODA vehicle and not familiar with the benefits of the ŠKODA Connect world yet? Would you like to have information about current traffic situations during your drive, or to be able remotely control your vehicle? Then, the ŠKODA Connect is the right solution for you! With the ŠKODA Connect online services, you will never be cut off from the outside world.
Wherever you are, you will remain at the heart of the action, always keep in touch with your nearest and have the assurance that help is at hand to overcome any difficulties. You can easily get always up-to-date traffic information so you can save your time and avoid stressful staying in traffic jams or control vehicle just using your voice thanks to Infotainment Online service package.
Care Connect service package will help you deal with malfunctions or any other issues related to the condition of your vehicle and provides new way how to control your car by interconnecting the vehicle with a smartphone by MyŠKODA application.
Introducing ŠKODA Connect, the online services to live every day to the full! Purchasing all or just some of these service packages will give your car a host of new features, encompassing entertainment on the road, care and your safety. Check out all the features in detail below or alternatively manage your ŠKODA Connect services on our Portal.
Infotainment online
Infotainment Online services will help you to reach your destination safely and comfortably, every time. They are available for the Amundsen and Columbus ŠKODA infotainment systems. Service validity is renewed periodically.
Online route calculation
Take the ideal route, every time. When you enter a destination in the navigation system with this service, powerful ŠKODA servers remotely calculate the route instantly, taking into account the traffic and current and forecast conditions on the way. The result is quick and accurate routing to guide you to your destination unhindered and in time.
Online voice-control
With Online-Voice Control, your car will be hanging on your every word to do your bidding. Curt orders are consigned to the past. Now you can control the car with Laura, an assistant who understands normal speech. Laura will help you to control the navigation, media, and text messages, while letting you concentrate better on the driving.
Infotainment apps
Infotainment Apps allow you to download additional applications such as Weather, News and other apps via Shop in the infotainment system. Infotainment Apps will be regularly updated and more apps will be added over time.
Online traffic information
Always reach your destination on time and avoid all obstructions along the way by receiving the latest traffic news on accidents, tailbacks and roadworks in your infotainment system, so you can respond instantly. The navigation also factors in this data and dynamically finds the best route.
Petrol stations
Use Petrol Stations to keep up to speed on the best fuel prices around. Browse a list of petrol stations, their location, and current prices any time you want in your infotainment system. Enter them in the navigation or simply view garages selling your fuel type.
Parking spaces
Don't waste time searching for a parking spot. Parking Spaces is your guarantee of a space. The infotainment system provides a detailed overview of nearby car parks, including opening hours, prices and free spaces. A single click will navigate you to a selected car park. Parking couldn't be more convenient.
Weather
You'll never be wrong-footed by the weather again. The infotainment displays the weather at your destination, in your current place or anywhere else with current or multi-day forecasts, weather warnings and Meteoradar. Selected models offer Weather – now including sunrise and sunset info – for download separately in the Shop.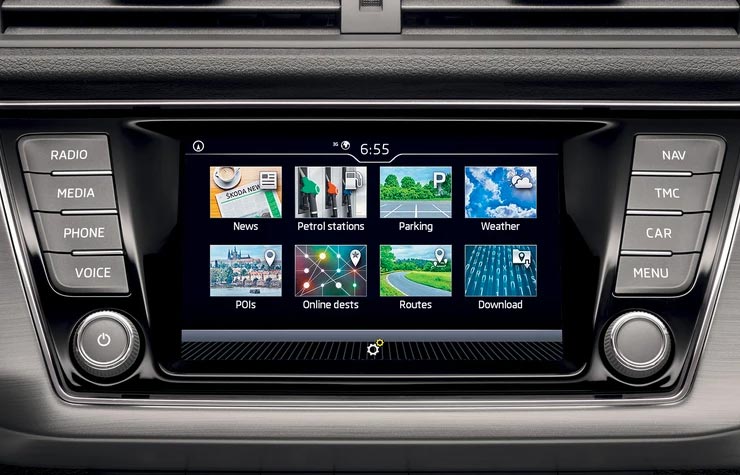 News
Know what's going on. Display the latest news directly on the navigation screen with the News service. Add your favourite news channels to the ŠKODA Connect Portal and transmit them to your car. News is available for download separately via the Shop in some models. It also offers podcasts and news channels directly in the infotainment system.
Gracenote
Do you know what the track you're playing is called? With Gracenote, your infotainment will always know the answer. It recognises the song and displays information retrieved online: the name, artist name, album, and even the album cover. The data is then saved to your onboard database. This feature is available exclusively for the Columbus infotainment system.
Online Points of Interest search (voice)
Find points of interest, such as the top bathing spots or hotels, safely and simply with your voice while driving, without having to stop. The search results are displayed in an easy-to-read list, offering contact details, opening hours, and navigation. This feature is available exclusively for the Columbus infotainment system.
Online Points of Interest search (text)
Find and view points of interest – such as the nearest marina – simply with an infotainment text search. Entering your destination calls up a clear list of nearby results. The details include the address, contact info, ratings, and navigation. POIs can be saved or grouped as custom-made lists.
My points of interest
With this service, you can easily transfer your own POI list to your car, so you can always find your favourite cafes or restaurants from wherever you are. You can create the list using the ŠKODA Connect Portal on your computer or tablet at home.
Online destination import
Add favourite or unexplored destinations to the onboard infotainment system with a single click, via the ŠKODA Connect Portal at home or via a smartphone with ŠKODA Connect App on the road. Select a destination by entering an address, searching by name or using a Google® map. Need to get to multiple places? No worries, you can enter up to 100 different destinations.
Online route import
Embarking on a complicated route involving numerous stops on the way? No problem, simply prepare beforehand in the ŠKODA Connect Portal. The route can contain up to 10 stops via Online Destination Import. Once your route is ready, transfer it easily into your car's infotainment.
Online map update
To get where you're going as fast as possible, you need not only traffic information, but also maps updated online for your region – downloadable immediately after they are released. For longer journeys, you can download the local data beforehand to avoid being caught off-guard.
Google Earth™
Once this unique service is activated, you can view photorealistic aerial shots of your locality to get around quicker or discover places of interest and intrigue. Google Earth™ is available for the Columbus infotainment system only, for the new cars produced until calendar week 31/2018 and prolongations until calendar week 45/2019.
Care connect: Proactive service
Proactive Service is ready to help you deal with malfunctions or any other issues related to the condition of your vehicle. The car automatically contacts a service centre or calls for assistance if you have a minor accident. Proactive Service is compatible with most infotainment systems and may be standard or optional.
Service scheduling
With Service Scheduling*, you no longer have to fret about when to book another service. Your ŠKODA service partner and your car will take care of this. The vehicle reports any required servicing to the backend server. The details are sent to your preferred service partner, who contacts you proactively to schedule an appointment.
Breakdown call
Maximum ease and convenience are our watchwords even if your car breaks down. Pressing a button on the roof module connects you to a Roadside Assistance Call Centre. The car also automatically sends data about its position and condition to the call centre so that you can quickly resolve the issue with the operator or have your car towed.
Info call
Wherever you are, if you have any queries about ŠKODA Connect services or your ŠKODA vehicle, just press the roof module button to contact the Customer Care Call Centre. Our operators are ready to help you at any time.
Vehicle health report
Check your car's "health" in your own report, or have a report sent regularly, much like a bank statement. You will then always know how your car is and what needs to be replaced. Reports are accessible via the ŠKODA Connect App and you always have the latest version. The data includes mileage, selected warning messages and service requirements.
Automatic accident notification
If you're in a minor accident, never fear. Your car is ready to help you by offering – via the infotainment display – to call the Roadside Assistance Call Centre, which will take into account the car's condition and advise you what to do to get back on the road as quickly as possible. If the car is no longer mobile, you can have it towed or have a rescue service dispatched.
Online remote update
In selected models, Online Remote Update ensures that the infotainment communication unit is regularly updated. The latest updates improve security and the process is fully automatic.
Care connect: Remote access
Remote Access is a completely new way of controlling your car by interconnecting the vehicle with a smartphone. You can then use your phone to control the car and receive status alerts. Service validity is renewed periodically. Care Connect services are compatible with most infotainment systems.
Lock & unlock
Did you lock your car as you were hurrying to catch your flight? Using the ŠKODA Connect Portal or app, you can easily check whether your vehicle is locked or simply lock it with a single tap. You even can unlock it in the same manner – for example when your passengers reach the car before you do.
Online anti-theft alarm
Keep control of your vehicle even when you're out of earshot. No matter where you are, you will immediately be alerted by email, smartphone or smartwatch if your anti-theft alarm is activated, and of the time and reason, so you can take the necessary action. This service is enabled every time you lock your car.
Area notification
To prevent improper use of the vehicle, use Area Notification to track whether the car has exited the area you have designated or has entered a prohibited area. If this happens, you will be alerted on your smartphone and smartwatch or by email. Use ŠKODA Connect Portal or app to set up to 10 different areas and active periods when the car is to be monitored.
Speed notification
Keep track of how your car is being used and set a one-off or recurring alert if it goes faster than the speed you have selected. If the vehicle exceeds the selected speed limit, you will be alerted on your smartphone and smartwatch or by email. You can access, set and manage the speed limit status at any time in the ŠKODA Connect Portal or app.
Driving data
Whether you want to know the parameters of your last journey in order to practise consumption control or simply have a summary of all your previous trips, Driving Data is the ideal solution. You can retrieve current data on vehicle use, such as average fuel consumption, average speed or distance travelled, via the ŠKODA Connect Portal or ŠKODA Connect App.
Vehicle status
Whether you've just got home after leaving your vehicle parked somewhere or want to check up on your car on the other side of the city, use your PC, smartphone or smartwatch for a quick update of your car's current status. In an instant, you can check the remaining range, the AdBlue level, whether the car is locked, and whether the lights are off and all windows are closed.
Parking position
Don't panic about where you left your car in a large car park or unknown city. Parking Position consigns those worries to the past. The vehicle transmits its position data once after every trip. After retrieving the data via smartphone or smartwatch, you can find your parked vehicle using its GPS position.
Honk & flash
Know where you're parked, but looking for your car in a sea of vehicles? Just pull your smartphone and use Honk & Flash to activate the horn and/or hazard lights remotely. Problem solved in a jiffy, and you can smile in relief. This service works within 500 metres of the parked car.
Emergency call / eCall
A very important part of ŠKODA Connect is the Emergency Call and eCall safety feature that comes either as standard or as part of the Care Connect service package and is free of charge for the car's entire lifetime.
Emergency call / eCall
Emergency Call/eCall provides instant assistance. It is activated automatically if sensors report a major accident. Emergency Call establishes an audio and data connection to a special emergency call centre (eCall dials 112/999 directly) and conveys all the necessary information. A voice call is established and the customer is looked after until help arrives.
Service Scheduling
*Service scheduling is a part of the Proactive Service – Care Connect package. Select your preferred Authorised Repairer in ŠKODA Connect and your car will inform them directly if any maintenance or repair is needed. Simple and Comfortable!
Vehicle with ŠKODA Connect will send information to your chosen Authorised Repairer before service interval (maintenance, oil change) or when certain warning lights appear on dashboard. You will be contacted by your chosen Authorised Repairer through your preferred communication channel.
Full warning lights description can be found within the relevant Owner's manuals.
ŠKODA AUTO reserves the right to change the scope of warning lights without any prior notice.
Contact Details
Derek Slack Motors
Prospect Place, A66 Cargo Fleet
Middlesbrough
Cleveland
TS3 8AR

Telephone: 01642 256100
Email: Click Here to Email Us
Opening Times
Sales Opening Times
| | | | |
| --- | --- | --- | --- |
| Mon - Fri: | 9:00am | - | 6:00pm |
| Saturday: | 9:00am | - | 5:00pm |
| Sunday: | | Closed | |
Service Opening Times
| | | | |
| --- | --- | --- | --- |
| Mon - Fri: | 8:00am | - | 5:30pm |
| Saturday: | 8:30am | - | 12:30pm |
| Sunday: | | Closed | |
Bank Holidays (closed Christmas Day, Boxing Day and New Years Day)
All other Bank Holidays 10.00-4.00 (Sales only)