Derek Slack Fleet Servicing
Why Choose Derek Slack Motors?
My father Derek, a time served mechanic, started business in 1973 servicing & repairing vehicles long before his first car sale, I too followed the same path gaining the mechanical knowledge critical to underpin a career in the motor industry. This is why servicing, repairs & MOT's to cars, vans & pick-ups have formed the cornerstone of our business and are jobs we endeavour to complete to the highest standard.
1973 was a long time ago, we now have two workshops with 13 bays, 9 ramps (up to 5 tonnes), plus an MOT bay, fully equipped with the latest diagnostic equipment, air con re-gassing for R134a & R1234yf, four wheel alignment, ADAS radar recalibration, tyre changing & balancing, electronic brake bleeding, Electric Vehicle charging & a large on site Parts Department.
We have the resources and expertise to maintain any fleet of vehicles, regardless of make and provide bespoke fleet management. We subscribe to the popular 1Link & Fleet Assist billing platforms. We service a number of local fleets, anything from three car companies to larger organisations with more structured requirements like Cleveland Police. Ensuring our client's fleets are well maintained, eliminates vehicle down-time, cutting expenditure, maximising productivity and increasing efficiency. Use our decades of experience to reduce your fleet's downtime & increase your drivers productivity & your bottom line by using a single, trusted, family motor retailer to supply your business or organisation with a top-class fleet solution.
TONY SLACK - Managing Director

Meet The Service Team
Meet the Derek Slack Motors Service Team. The unsung heroes who work tirelessly to keep your vehicles on the road. As demand for our services grows, so does our team, who between them possess many years of experience & technical knowledge.
When you rely on something as much as your fleet, it's reassuring to know everything's working exactly as it should. Our factory trained technicians have access to the latest diagnostic equipment and use only high quality parts designed for longevity and to reduce wear and tear. They have the latest technology at their fingertips, endeavouring to repair your vehicle correctly, first time, every time, saving you both time and money in the long run. 1link Service Network has become the industry standard for the provision of the complete service, maintenance and repair function, through the definition of supplier networks, service booking, electronic authorisation and payment processing for cars, LCVs, trucks and plant. Starting with the definition of the overall supplier network and then specifying an individual repairer, you can create a booking on-line for future SMR work. Subsequently a cost estimate and an authorisation request will be generated electronically, followed by on-line authorisation, or via the integral 1link rules based authority engine, and then receive an electronic invoice for payment.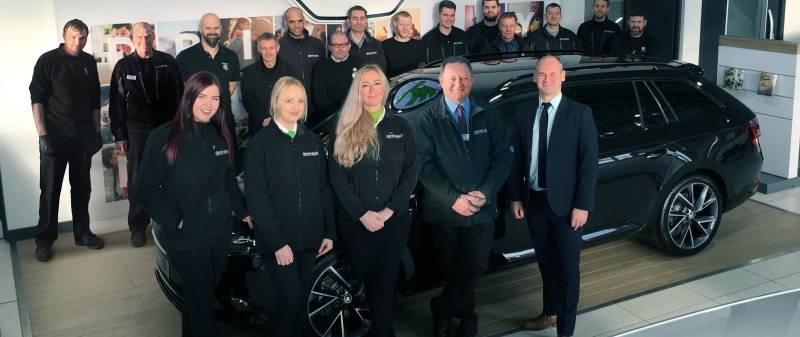 Our Service team: Service Advisors, Technicians, Warranty Administrator, drivers, Campaign Co-Ordinator, Workshop Controller, led by Service Manager Chris Harrison (front right).
Emergency Servicing
Derek Slack Motors provide the maintenance contact for Middlesbrough Police. The contracts are awarded by the Office of the Police and Crime Commissioner. Barry Coppinger, Cleveland's Police and Crime Commissioner, said: "Police vehicles have to be on the road every day of the year and the contract allows us to work with Derek Slack Motors who provide a fast, priority service. We need suppliers who can MOT and service cars as well as provide ad hoc repairs, which can be extensive. Getting involved with local partners is something which we are keen to foster and maintain."

Cleveland Police awarded the fleet maintenance contract to Derek Slack Motors after rigorous scrutiny of our equipment and tehnical expertise, ensuring we had the skills to look after the Force's varied stock of more than 300 vehicles including BMWs, Peugeots, Vauxhalls and Škodas.
Recently we supplied Cleveland Fire Brigade with 14 new Škoda Octavia Scout Estate Cars. Karen Winter, Director of Corporate Services said, 'This deal has allowed us to standardise our fleet and provide vital vehicles to our Flexible Duty Officers, so they are able to respond to incidents quickly and safely and in all types of conditions, as these cars have 4x4 ability. It is very important to Cleveland Fire Brigade that we work with local businesses and ensure that we are getting value for money across all aspects of our business. This addition to our fleet allows us to continue supporting safer, stronger communities across Cleveland.'
Managing Director, Tony Slack, visited Endeavour House to ensure the safe delivery of the vehicles. He said, 'We are delighted to continue our 20 year relationship with Cleveland Fire Brigade to supply, service and maintain vehicles and support our local Fire Brigade in keeping our communities safe.'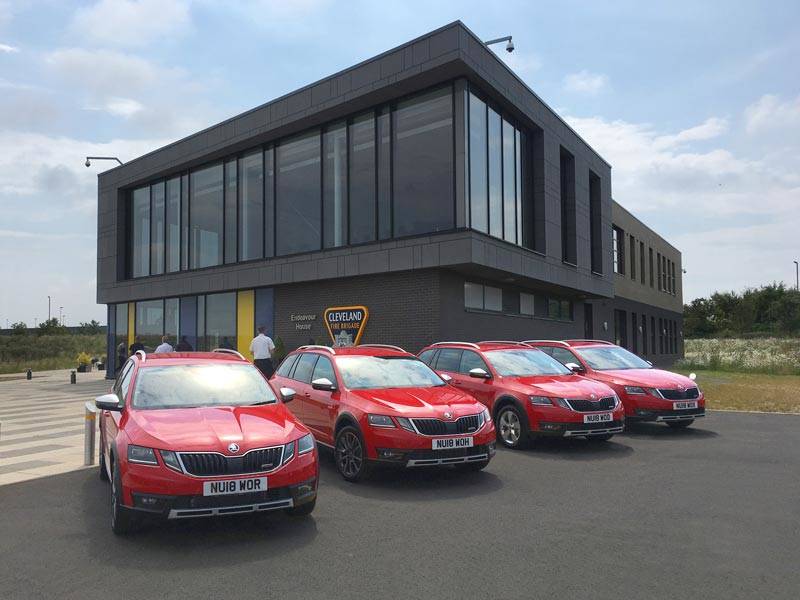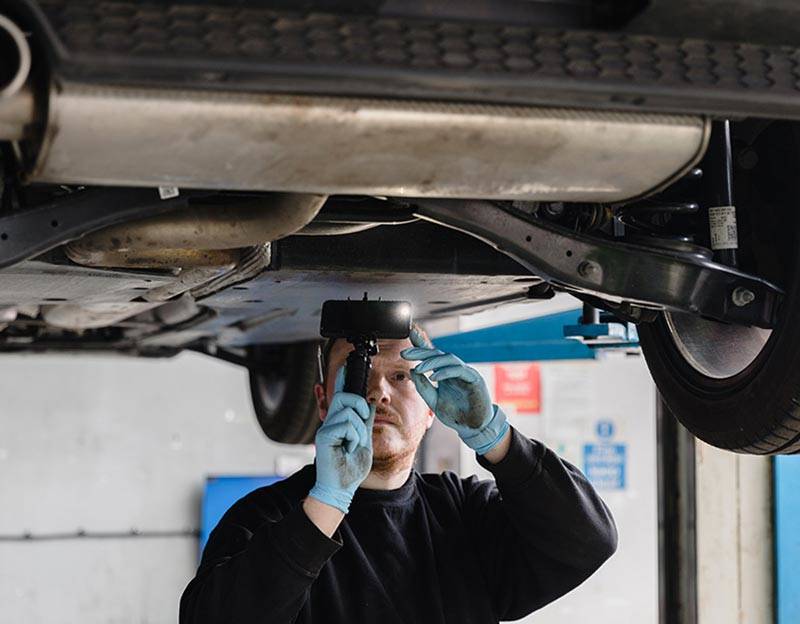 CitNOW
Do you know what a constant velocity gaiter is?
Or a dual mass flywheel?
You will with our new workshop videoing program.
Should our Technicians find a fault while working on one of your vehicles, they will now text you a link to a video that takes you virtually to our workshop, allowing our technician to show you the work needed while it's still on the ramp. This makes it quick & simple to understand what's required, breaking down confusing jargon and allowing you to make more informed decisions quickly.
"It is important to us that the H.E. Woolley team has a reliable and efficient fleet of vehicles so that we can offer the best service we can to our customers. We are very pleased that we have built up such a strong working relationship with Derek Slack Motors, who are literally a few miles down the road from our headquarters. We use them for repairs as well as disposal of end of life vehicles"
H Wilmot - Managing Director HE Wooley
"Today we sent our Transit van and a Peugeot car in for separate repairs. Both have been in and out in one day (in fact within a few hours). We have limited vehicles in Coulby so to have 2 off the road is a massive issue for us, so them getting things sorted so quickly has been a massive help and it is really appreciated that they have helped us so quickly."
Sergeant Scott Pearson - Cleveland Police
"Chris and Tony I just wanted to take the opportunity to say thank you. Over the last few days we have placed an unusually large volume of work your way, with all manner of unscheduled and scheduled work. We at fleet appreciate your team's efforts in turning repairs around so quickly and returning vehicles back into service, all at Middlesbrough station. You have demonstrated an awareness of our requirements in maintaining operational efficiency of our fleet vehicles and the affect it has when a large number go off the road with mechanical failure. Please pass our thanks on to your team for all of their efforts, we appreciate it."
Dave Allen - Fleet Technical Assistant, Cleveland Police
""Husqvarna prides it's self in providing our customers with innovative, efficient products and services. Our sales and service teams require a reliable and efficient fleet of vehicles to meet our customers needs.
Over the past 9 years Derek Slack Motors have met the challenge we set them in supplying and maintaining a segment of our fleet, resulting in a strong and trusting working relationship."
Paul Mather, UK Health & Safety & Risk Manager, Husqvarna UK Ltd
"Over the past 20 years, Derek Slack Motors have taken the time to understand our business needs giving us support and assistance every step of the way. Keeping our vehicles on the road is of paramount importance to us, and the team at Derek Slack Motors have always ensured that any vehicles, not just Skodas, in for servicing or repairs are back on the road with the minimum of delay. We look forward to further developing our business relationship with the Derek Slack team."
Dave Hudson - MD, Twenty3 Taxis
Fleet Servicing Enquiry